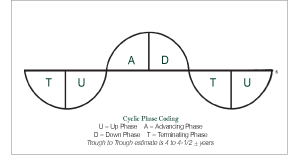 Taniscott Capital was formed in 2009 to carry on the work originated by Ian S. Notley first with Dominion Securities in Canada and later at his own firm, Yelton Fiscal, Inc. in the United States. Ian Notley is succeeded by Jonathan Arter, a protégé working with Ian for 20 years. Jonathan continues to write Notley's Notes and the Executives' Market Brief each week under his new corporation Taniscott Capital. Between those two flagship research products and the database, the studies that Ian and Jonathan worked on together for two decades continue. The research is designed for the institutional investor, particularly the money manager seeking the use of a global database with a longer term outlook.
The Notley Information Service is designed for the institutional investor, particularly the money manager seeking the use of a global data-base with a longer term outlook. The product had been managed by Yelton Fiscal, Inc for twenty years and is now continued under the corporation formed by Jonathan Arter in 2009, Taniscott Capital, Inc.
PRODUCT
The System offers on-line access to a global database covering 81 different countries and 85 capital markets including equities, derivative products, market indices with sector and group indices, business cycles and economic data, rates, bonds, commodities, currencies and some real estate. The price data is supported by exceptionally long term price histories dating back 100+ years on a daily, weekly, monthly, quarterly or annual basis. Screening processes are employed to determine cyclic junctures (entry and exit points, tops and bottoms) and point-of-cycle development for all series on an absolute and/or relative basis by group, industry or country. The database contains approximately 80,000+ series with up to 2,500 time points each for the daily, weekly, monthly, quarterly and annual entries.
METHODOLOGY
Simplicity is maintained by the use of relatively few analytical tools. All techniques focus on cyclic and linear price trends and their respective trend junctures (bottoms and tops).

Cyclic Rotation is monitored and analyzed for individual series, groups, sectors and markets as well as for the longer term sequential relationships existing between interest rates, bonds, equity markets, currencies, commodities and the business cycle. The approach is basically a top-down approach with allowance for a bottom-up style in the case of more rotational markets.

Trend and Cyclic commonality and variation are recorded for the cyclic waves of the dominant long term trend representing the 4 to 4-1⁄2 year cycle, the intermediate, less dominant trends and the minor, more random short term trend waves. These three well-defined cyclic movements fit into each other and act together to form the cyclic model. Very long term secular trend movements are tracked, analyzed and defined by character, type, maturity and timing juncture.

Portfolio asset mix on a country, industry, category or individual basis is provided.
THE COMPANY
The Notley Information Service was originally formed in Canada in 1986 to perpetuate the work of the firm's founder Ian S. Notley who, prior to that date, had headed-up the Trend & Cycle Division at Dominion Securities, the largest investment dealer in Canada. Jonathan Arter joined Ian Notley in Ridgefield, Connecticut, U.S.A. soon after his new company was formed. They worked closely together until Mr. Notley's death in 2008. Today, the Notley Information Service, the techniques and publications, are carried on by Mr. Arter under Taniscott Capital.
Professional Employees
Requirements of employment are (1) experience in the Securities Industry for at least 3 cycles or 12 years (preferably involving experience with both the buy as well as the sell side of the Street), (2) a strong background in fundamental and technical analysis, and (3) an appreciation of the global economy and especially the global marketplace. Considerable in-house training is featured for all employees.
Corporate Library and Research
Over the years, a library of over 2,500 catalogued volumes has been collected on market approaches, styles and history of the capitalist process. Many editions are of 19th or early 20th century origin. Additional to which is another collection of the usual assemblage of corporate facts and share price data. The corporate library is used for appraising investment methodology and for the education and edification of staff and clients.
Research and Development
An ongoing Research & Development Program was instituted at the company's inception. Over the years, the program has led to technique refinements, back-testing, product enhancements and a better understanding of capital markets.
Client Development and Concentration
More than 150 institutional subscribers based in 14 different countries utilize the service. The major client concentration exists in Canada, United States, Switzerland and United Kingdom, followed by the Middle East and Asia.