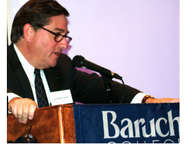 The Ian S. Notley Memorial Award on Cycles Research
Jonathan Arter, president of Taniscott Capital, has announced the formation of The Ian S. Notley Memorial Award. The award will present a $2,500 prize awarded to a university student who writes the winning paper addressing market and business cycles and the oscillations present in capital markets on a secular and cyclic basis.
This announcement was made at the grand opening of the MTA Educational Foundation (MTAEF) / Market Technicians Association (MTA) Library at Baruch College on November 17, 2009. The competition will be partnered with the MTAEF and is expected to be awarded annually.
Guidelines and a review panel are currently being established.
Jonathan and the MTAEF would like to thank all those who knew Ian as a friend and who admired his work and insights into global capital markets for helping to build a small endowment that will help to keep the Award funded for several years. The MTA Education Foundation qualifies as a charitable organization under IRS Section 501(c)(3), and contributions are tax deductible in accordance with IRS regulations. Taniscott Business Manager, Bonnie Nakashian, will assist with questions as to how to participate for those who have not yet done so. She can be contacted at This email address is being protected from spambots. You need JavaScript enabled to view it.
Taniscott Capital, Inc. is carrying on the trend and cycle work developed by the late Ian S. Notley. Taniscott is the publisher of the Notley Notes and Executives' Market Brief and covers 80+ countries and 85 global capital markets including all equities, market indices with sector and group indices, bonds, rates, commodities, currencies, business and economic data. The service is designed for the institutional fund manager seeking the use of a global database with a longer-term outlook.